Join the CFO RoundTable Boston on Wednesday, June 12, 2013 as we present "Executive Communications: 3 Critical Skills Every CFO Needs To Master," an interactive, half-day workshop designed to improve your communication styles in:
Building credibility and trust through powerful communications techniques

Issues and crisis communications to your internal and external stakeholders

Presenting your professional brand in a digital age

Successful networking and conversational techniques
Our workshop includes:
How to Build Credibility and Create Business Value through Powerful Communication
Presented by David Casullo, President, Bates Communications 

David Casullo, 
President, 
Bates Communications
The world's best leaders share a common quality – the ability to drive value into their businesses by communicating in a powerful way. Through research on successful CEOs and CFOs for his book, Leading the High-Energy Culture, David Casullo discovered that the most powerful leaders know how to build credibility by creating clarity about what defines them as leaders. In this energizing keynote session, David will show you how to discover the personal truths that define you as an authentic leader. You'll find out how to align these truths with your business strategy to create a competitive edge. And, you'll learn high-impact communication tools for sharing the unique story of your business with employees, media, shareholders, and other important stakeholders.
Crisis Communications: Demonstrating Integrity and Trust In Uncertain Times
Business reporters are busy these days. From bankruptcies to layoffs, investment schemes and more, our business news is deluged with stories of missteps and failures that reap untold damage onto companies and their employees.
In this session, our panel of experts will discuss their own personal challenges and triumphs in crisis communications, and share their best practices for CFOs to 'get ahead of the news' while successfully managing the needs of their employees, executive team, board and more.
Our expert panelists include:
Joyce Bell, 
CFO, 
Moderator 
Peter Howe,
Business Editor,
NECN 
 Mike McCarthy,
Director of IR,
Ambient Corp. 
 Carin Warner, 
President,
Warner 
Communications
Professional Presence In The Digital Age
It's often remarked that CFOs are often the last to cross the 'digital divide.' However, in today's lightening-paced environment, professional presence, both online and offline, are critical to demonstrating expertise, integrity and relevancy.
In this session, our panel will present a series of best practices designed to arm CFOs with the knowledge, tools and confidence necessary to properly harness digital resources and offline endeavors to build a solid professional presence.
Our expert panelists include:
Larry Blumsack, 
Best Selling Author, 
Face-to-Face is 
the Ultimate 
Social Media
Stephen 
Charkoudian, 
Partner, 
Goodwin Procter 
Patrick 
O'Malley, 
Social Media 
and Google 
SEO Expert
Ned Philie, 
Managing Director,
Robert Half
International 
 Mari Ann Snow, 
CEO, SophiaThink; 
Adjunct Professor, 
Bentley University
Networks That Last: Dragonflies and Pelicans
Presented by Pam Lassiter, Founder, Lassiter Consulting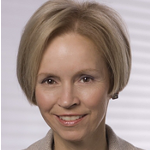 Pam Lassiter, 
Founder,
Lassiter Consulting 
"I'd like to network with you." How do you feel when someone says that to you? If you're like most professionals, you cringe. After all, people don't like the concept of being 'networked with,' as there is an implication of being used, of being put on the spot, and of being asked for names when you're not sure that you want to share any.
Although we all realize networking is important, we have an instinctive reaction against it when we're on the receiving end. So how do we change that reaction so that both teams want to play ball, especially when you're the one who is seeking new information or relationships?
In this session, our guest speaker, Pam Lassiter, Principal of Lassiter Consulting, will discuss winning strategies to disciplined networking that will enable you to identify and develop lasting relationships that can deliver solid results for your company, your career, and even your personal life.
We'll end the day with a year-end social and celebration – we can't think of any other way to cap off such an exciting year with The CFO RoundTable Boston!